High Precision Accelerometers
Sherborne Sensors manufacture a wide range of high precision inertial accelerometers to measure linear acceleration and deceleration with the highest levels of accuracy and reliability. Our accelerometers are used in demanding aerospace, aviation, military and industrial applications around the world.
Please call our Applications Team on +39 02 46 92 680 or email info@mecoitalia.it so that we can discuss the best linear acceleration and deceleration sensors for your measurement requirements. Over 50% of our accelerometer production is associated with custom products to meet a customer's specific measurement application.
Typical applications include:
Accident data collection
Military and civil flight simulators
Fatigue life monitoring
Road bed analysis
Deceleration in mass transit systems
Autopilots
Data acquisition systems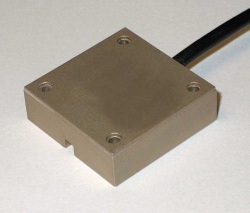 Single and Dual Axis A700 Accelerometer
The Sherborne Sensors' A700 range of Solid State Accelerometers measure acceleration in single or dual axes. The accelerometer utilises MEM technology and has positive mechanical stops confering excellent shock resistance.