High Precision Inclinometers
Sherborne Sensors high precision inclinometers are designed to measure horizontal and vertical angular inclination with virtually infinite resolution. Our inclinometers provide reliable, highly accurate, tilt and inclination measurements and are used in demanding military and industrial applications where high precision angular measurements are essential.
Please call our Applications Team on +39 02 46 92 680 or email info@mecoitalia.it so that we can discuss the best inclinometer product for your requirements. Over 50% of our inclinometer production is associated with custom products to meet a customer's specific angular or tilt measurement application.
Typical applications include:
Road and pavement grading
Tilting train control
Borehole alignment
Rail track monitoring
Optical sighting equipment
Seismic and civil engineering analysis
Satellite dish alignment
Precision platform levelling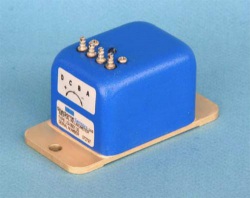 Single Axis Servo LSI Inclinometer
LSI Series Single Axis Servo Inclinometers
Available ranges of ±14.5°, ±30°, ±90°,
High level, 5-Volt analog DC-output signal, proportional to sine of the angle of tilt
Incorporates unique, flexure-supported torque balancing system
Sensor components and electronics contained within IP64 environmentally sealed housing
Shock survivability in excess of 500g
Fully self-contained, and able to connect to a DC power source and a readout or control device, to form a complete operating system.
Choice of single ended or bi-polar power supplies
Recommended for use with the Sherborne Sensors DTI Series Digital Tilt Indicator
Custom design and manufacturing capabilities
Level control of machines and structures
Safety control of cranes and lifting equipment
Civil engineering studies
Geophysical and seismic studies
Machinery and structural alignment
Pipeline leveling
Marine ballast transfer systems
Satellite anten